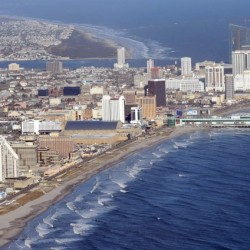 Grab your milk shake & step back in time for the history of a midlantic broadcast legend: 1340 WMiD Atlantic City! WMiD began broadcasting in 1947 as Atlantic City's first officially-licensed commercial station! WMiD has enjoyed a colorful history spanning 64 years. In the 1950's WMID broadcast from a small studio & table-top console in the old Brighton Hotel on the beach across from the Claridge Hotel. The Brighton was torn down to make way for the Sands Casino, itself since imploded & demolished to make way for a new casino that has yet to be built. In the early 60's the station broadcast from studios adjacent to its still-current tower site at Ohio & Murray Avenues just off U.S.Route 30.
We first rose to national prominence in the late 50s when AM 1340 became engaged in one of the country's first intense Top 40 battles. While "Wonderful Wibbage WIBG" & "Fabulous 56 WFIL" were slugging it out in Philadelphia WOND & WMiD competed for Top 40 leadership at the Jersey Shore. WMiD ultimately prevailed & reigned during the sixties & early seventies as the dominant contemporary station in Atlantic City & one of the better known heritage CHRs on the East Coast. Dozens of well-known radio alumni graced its airwaves during these glory years. Soon after entertainer Merv Griffin purchased WMiD in 1968 WOND switched to an MOR format leaving WMiD all alone in top 40 for the next six years.
During this period WMiD embraced a mass appeal top 40 format, first calling itself "Boss Radio" & then "The Jersey Giant" & enjoying record-breaking ratings & revenues during its '68 – '75 CHR hey day. Soon after Atlantic City introduced casino gambling in 1978 WMID was also known for a time as "Lucky 13!" Hundreds of the songs that originally propelled WMiD to its lofty heights in the 60s & early 70s remain on the station's current playlist today.
WMiD's sound was high-energy & music-intensive – the first consistent around the clock rock n roll sound at the Jersey Shore. WMiD was one of the first strictly-formatted mid-market Top 40s to eliminate all block programming in favor of an ultra-tight playlist, modeled after Rick Sklar's WABC New York, Mike Josephs Hot Hits WCAU Philadelphia & Jay Cook's WFIL. At the height of its popularity WMiD spun the #1 song of the week every two hours & the rest of the top 5 every 2 ½ hours! New songs were labeled Future Giants & in a nod to the growing resort's appeal oldies were dubbed Souvenirs. WMiD's hot rotations were previously unheard of in mid-size markets & stand in sharp contrast to the stations current library of over 1500 oldies played no more than 1x-2x a week. WMiD also boasted strong powerful top 40 jingles which until recently were still airing in regular rotation. WMiD's catchy jingles became part of the station's history & favorites like "The world comes here to play", "WMID from the sand to the sea" "Summer at the Jersey Shore". & "Playing hits since 56" regularly receive requests to this day. ABC Radio Contemporary news punctuated each hour. In short WMiD was one of the most polished & professional-sounding CHRs of its time!
When urban formatted WUSS signed on in 1988 it immediately drew the black listeners that had previously defaulted to the urban-leaning top 40 mix on WMiD, an eerie echo to the same kind of death blow dealt to WABC by WKTU & WBLS in 1978. As listenership patterns migrated from AM to FM WMiD withstood further incursions from WAYV & WFPG, working its way through several different formats including Adult Top 40, Disco, Big Band, Easy Listening, Nostalgia, Adult Contemporary & Adult Standards before debuting its current Classic Oldies format in 2007.
Soon after Equity Communications purchased WMiD in 2003, programming & sales were moved to the
Company's main offices in the Bayport One Office Building in West Atlantic City. In commencing the current Classic Oldies format, stereo wav files of over 2000 oldies were digitally re-mastered & enhanced through Equity's company-wide digital automation digital automation which allows reqwuests to automatically impact rotations & serlections for the next weeks music. A brand-new solid state transmitter powers America's most amazing 900 watts, with people in suburban Philadelphia, North Jersey, and coastal Deleware marveling at the signal strength.
Today WMiD's Classic Oldies format is rooted in the first two generations of Rock & Pop radio, namely the 50s & 60s. The mission of WMiD continues to re-create the station's glory days when the rapid-fire sounds of rock & pop dominated the AM band. Legions of longtime Atlantic City listeners instinctively tune into WMiD whenever they approach the Jersey Shore . For their own private sentimental reasons they're comforted to know its still on the air doing its thing after 64 years, a sturdy little David against the giant New York, Philadelphia & Atlantic City goliaths. AM 1230 & 1340 Classic Oldies WMiD continues to reflect "the Music You Grew Up with on the Station You Grew Up With."