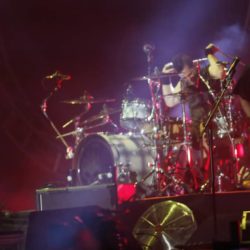 The Offspring have apparently parted ways with drummer Pete Parada. According to Parada, it's because he has chosen not to get vaccinated against COVID-19 due to medical reasons. Parada had been the band's drummer since 2007; he explained his departure on Instagram, saying that his medical history and advice from his doctor has led him to choose not to get vaccinated at this time. He added that, as a result, the rest of the band feels he's "unsafe to be around, in the studio, and on tour." Parada's full statement can be read here.
The Offspring released their latest album, Let the Bad Times Roll, back in April, marking which their first studio LP in nine years. It's the first Offspring album where Parada played drums on the entire effort, having previously appeared on just four of the tracks on 2012's Days Go By.
The Offspring are set to play a number of festivals in August and September, as well as Aftershock in October and Welcome to Rockville in November. As of press time, the band has not made any official statement regarding Parada's exit.
Editorial credit: Antonio Scorza / Shutterstock.com