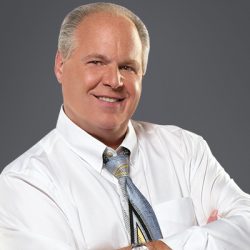 Listen to Rush Limbaugh weekdays from 12n-3pm on the only trimulcast in South Jersey 1340/1230 AM and 93.1 FM – THE ONLY signals to hear Rush in South Jersey.
Rush is an American radio personality, conservative political commentator, author, and former television show host. His longstanding radio show has aired live from Limbaugh's home studio in West Palm Beach, Florida since 1996. A November 2008 poll by Zogby International found that Rush Limbaugh was the most trusted news personality in the nation, garnering 12.5 percent of poll responses. Limbaugh began his career in 1967 as a radio DJ at various stations in Pittsburgh and Missouri.
In addition to his radio show, Limbaugh hosted a national television show from 1992 to 1996. He has written seven books; his first two, The Way Things Ought to Be (1992) and See, I Told You So (1993), made The New York Times Best Seller list. Limbaugh is among the highest-paid radio figures. In 2008, he signed an eight-year deal with Clear Channel Communications worth $400 million to continue his radio show on its network. In 2018, Limbaugh was the world's second (behind Howard Stern) highest-paid radio host, reportedly earning $84.5 million.  In 2015, Talkers Magazine estimated that Limbaugh's show attracted a cumulative weekly audience of 13.25 million listeners to become the most-listened-to radio show in the US. Limbaugh has mentioned his audience has continued to grow to 14 million listeners each day and 27 million each week.